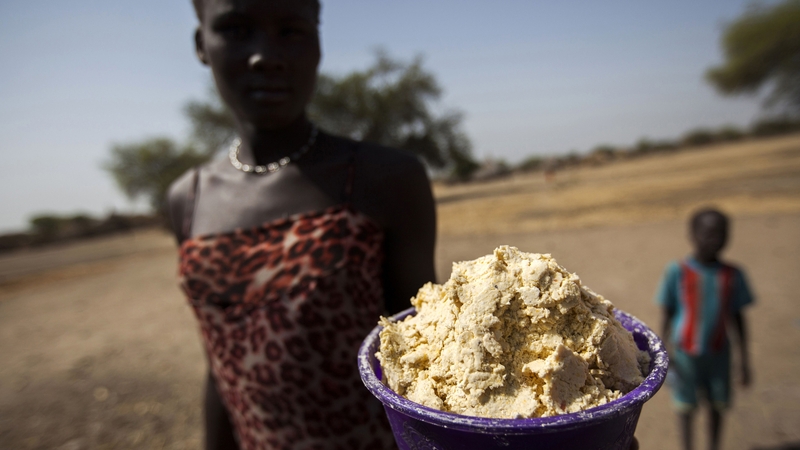 The world is facing an historic and horrendous challenge.
The UN says famine is threatening humankind in a way not seen since World War II, when the Nazis' scorched-earth tactics devastated Europe.
As people die, aid agencies appeal for action. But many are concerned that not enough is being done or will be done to avert another man-made disaster.
---
Where is famine threatening?
There are four countries at immediate risk of famine.
Three are in Africa, including one - South Sudan - where famine has already been declared.
The others are Somalia, the northeast of Nigeria and, across the Red Sea, Yemen.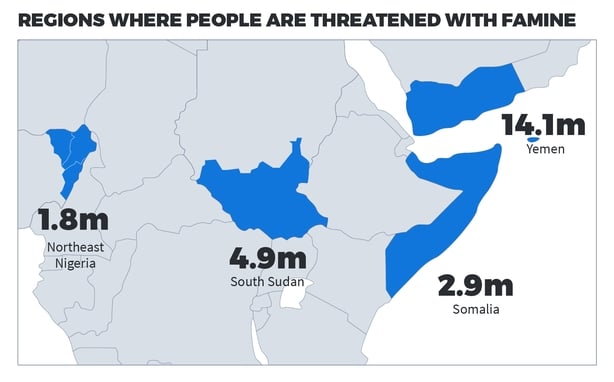 UN humanitarian chief Stephen O'Brien says that more than 20 million people are facing starvation.
He told the Security Council
that "without collective and coordinated global efforts, people will simply starve to death". UNICEF has already warned that 1.4 million of these could be children.
---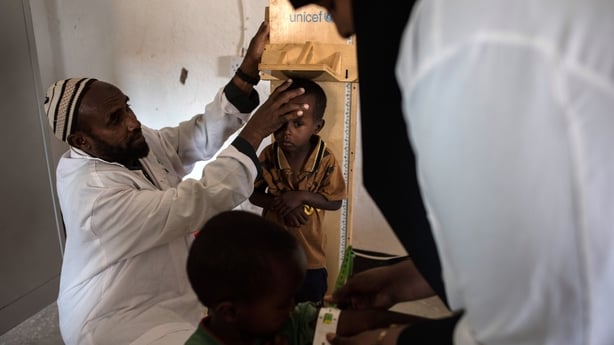 "International warning systems classify hunger under five categories of severity, from food secure (phase one) to famine (phase five)", explains Eoghan Rice, Trócaire's Head of Communications.
It is important to bear in mind that by the time the UN calls a famine, people are already dying in large numbers.
The four countries most at risk are in danger of reaching phase five, and falling into a human catastrophe, or famine.
This involves at least a fifth of households having absolutely no food, and more than two people per 10,000 dying each day.
States of emergency have also been declared in Kenya and Ethiopia, but they are not expected to reach famine levels.
"Huge areas in the belt of land across southern Ethiopia and northern Kenya are classified as being in crisis (phase three) due to drought," Mr Rice says. "Even at phase three level, the needs are enormous and massive international aid will be required over the coming months."
---
Famine is the result of several failures happening at the same time:
- Not enough food is produced.
- People have difficulty accessing what food there is.
- National and international authorities - government and donors - fail in their responses to the escalating crisis.
"Time is running out for more than a million children," UNICEF Executive Director Anthony Lake said recently.
"We can still save many lives. The severe malnutrition and looming famine are largely man-made."
And that is the key. These crises are created by violence and neglect, and they can be tackled. "Our common humanity demands faster action", appealed Mr Lake.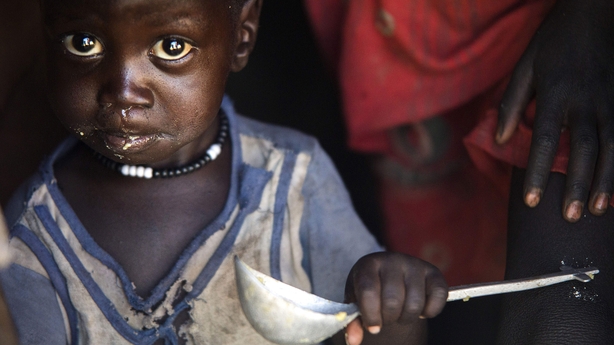 "Conflict is a major driver of the food insecurity and threat of famine in Yemen, South Sudan, Somalia and Nigeria", explains Feargal O'Connell, Concern Worldwide Regional Director for the Horn of Africa.
"Kenya and Ethiopia are countries, by and large, at peace. This is why they are suffering the same extreme climatic conditions - extreme drought - as say Somalia, but we are not seeing the same level of need.
"There is a significant food crisis in both countries and we are very concerned about the outlook especially if the upcoming rains should fail. However, with peace and a viable partner in the government in both countries, it is possible to avert a catastrophe."
---
Greatest challenge since WWII
"We stand at a critical point in history," Stephen O'Brien told the Security Council on Friday.
"Already at the beginning of the year we are facing the largest humanitarian crisis since the creation of the United Nations".
That means more people are at risk of famine than anytime in over seven decades. ie beyond living memory for the vast majority of people. The UN was founded in 1945.
Mr O'Brien says that we can change this; we can avert disaster. How? By raising over €4bn in a matter of months.
Here is a brief glimpse of the inhuman and degrading conditions being endured by people in those four countries.
---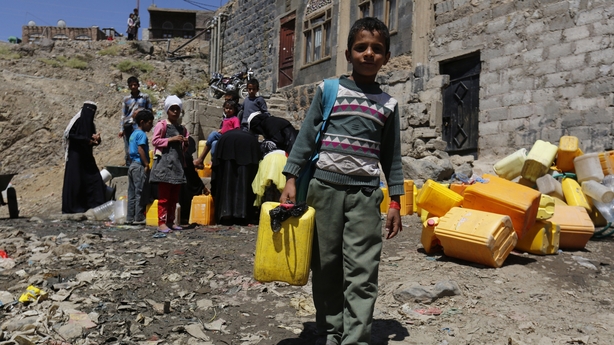 Ongoing, widespread war has reduced incomes, yet food prices remain high meaning poorer households cannot get enough food.
As well as destroying livelihoods, conflict restricts humanitarian access and damages the economy, preventing the country from importing the food people need to survive.
---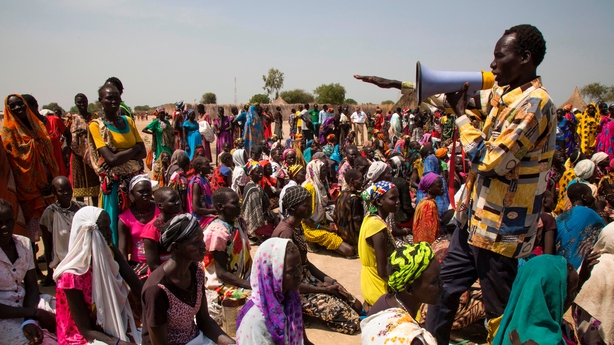 Famine has recently been declared in parts of Unity State in the northern central part of the country.
The government has collapsed, as have most institutions, amid a bloody civil war that has driven 2.5m people from their homes.
Again the familiar theme: "This crisis is man-made, the direct consequence of a conflict prolonged by South Sudanese leaders who are unwilling to put aside political ambitions for the good of their people," according to Mark C Toner of the US State Department.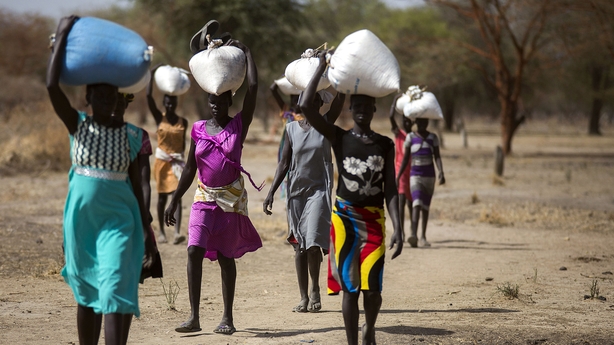 ---
The rampant violence inflicted on the population by the Boko Haram group of fanatical Islamists continues to force many to flee their homes in large numbers, meaning they cannot earn money or access markets.
Despite improved humanitarian access in some areas, large parts of the northeast remain inaccessible to humanitarian actors and continue to face an elevated risk of famine.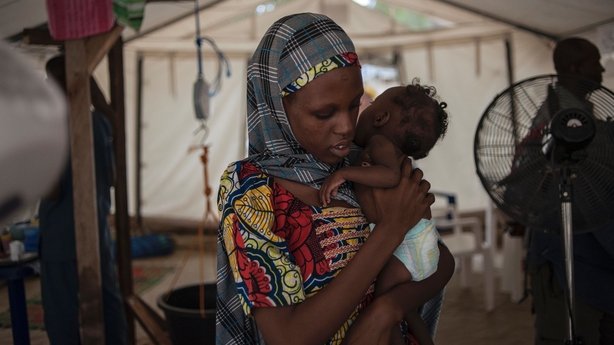 ---
Decades of conflict have wrecked Somalia.
Almost half the population, over 6m people, are facing acute food insecurity and urgently need help.
(Video shows women and children in Somalia who rely on the World Food Programme to save them from starvation)
Drought has the country in its grip, and that is expected to continue, certainly in the short term.
In the main cereal-producing regions in the south, less than 40% of the cultivated land is expected to be harvested.
Surviving livestock are in poor condition, which means they produce less milk.
And it is not just rural areas in difficulty. Ongoing evictions and the pressures of internally displaced people are adding to the building crises in cities and other urban centres.